Always operating with the utmost integrity
When I bought my East York home, it had a stark, treeless yard that was parched by the afternoon sun. I knew I had to plant some trees. While cycling in one of the ravine trails, I noticed a crew that was planting trees. I asked a gentleman on the crew if they did any residential work, and he said "yes" and he gave me a card. That's when I first met Steve, from UFORA. It's now 17 years later, and I have the heavily treed backyard oasis that I wanted! The amazing thing is Steve and I have stayed in touch over the years — he cares about his trees like they were his children. Every couple of years, I hire him to come over and help me with pruning, and to get his general opinion as to the health of the trees — needless to say, he is a fountain of information. How lucky was I to have come into contact with this company? I now have an excellent (I.S.A. Certified) arborist in my homeowner's portfolio of "people to call if I need help." Stephen, along with his company, have always operated with the utmost integrity.
Mark Robertson
Toronto
Good reputation a great help for by-law projects
UFORA planned and executed the replanting of the hillside in our backyard to remove the invasive species that had overgrown the site and replant with native species that would thrive in the particular conditions of the site. As our property is subject to the Ravine Control by-law, Stephen and his team had to prepare an application for approval to cut down a number of trees. Their reputation and relationships helped this process to go smoothly. The tree and other vegetation removal was a difficult piece of work due to the steep slope of our site, however Stephen's team did a great job, for a very reasonable price, and then executed the new planting smoothly and professionally. The team is very knowledgeable and professional. Our new plants are growing well and looking good.
JR
Toronto
High level of professionalism, expertise and commitment
Stephen Smith has advised us on the responsible management of our privately owned section of the Vale of Avoca Ravine for the past 12 years. In 2004, Stephen's on-site survey helped to identify native and non-native species of trees as we worked to control invasive species. In 2009, he negotiated on our behalf the acceptance of a comprehensive plan to restore the ravine by the City Urban Forestry Department, and he continues to manage its implementation to this day. Stephen and his team have approached this project with a very high level of professionalism, expertise and commitment to the goal of restoring a viable and natural forest system throughout our ravine slope. Although three years still remain to complete the project, we already see major improvements in the health of our forest; we believe that this work was the reason we suffered comparatively little damage during the recent ice storm or the rain storm last July. We are fortunate to have Stephen and his UFORA team managing our ravine stewardship project for us.
Sarah Farquharson
Chair, Garden & Grounds Committee, Seven Oaks Apartments Ltd
Amazing knowledge and practices
The 2013 ice storm proved to us the value of Steve Smith's long-term restoration and annual management/maintenance of our ravine property. We expected considerable damage owing to the number and age of the trees. We did not lose a single branch and all the new plantings, owing to the care with which they were selected for each environment, are thriving.
Jane Smith
Toronto
The go-tos for natural ecosystems
Creating a landscape requires a long term plan, a comprehensive understanding of natural ecosystems and a holistic knowledge of what, when and where to plant. Urban Forest Associates are the only ones I would trust to do this work because they are the only ones with the expertise, the resourcefulness and the know-how to get the job done.
Graham Smith
Principal, Altius Architecture, Toronto
Prompt and careful
UFORA staff were very knowledgeable and patient about educating us about urban trees. The work was done promptly, and exactly how he said it would. Care directions were clear and he stopped by a couple of times to check on how the trees were doing. I would not hesitate to call UFORA in the future and would highly recommend them.
Karen Turner
Toronto
Thank you
On behalf of the Faculty of Environmental Studies, I would like to thank you for your assistance in the design, planting and funding of the bioregional garden at our home, the Lumbers Building at York University. The planting in the years ahead will grow to be an interesting, diverse and attractive statement reflective of the nature of our Faculty.
Peter Victor
Dean, Faculty of Environmental Studies, York University
Almost an extension of our architectural team
We use Stephen Smith and UFORA almost as an extension of our architectural team to solve the problems associated with putting our houses in difficult ravine by-law protected areas, and for their creative landscape design solutions. They are committed to our projects and respond to the issues plainly and efficiently. They also command excellent technical skills to carry their landscape design through the construction stage. It is a pleasure to work with this firm.
Charles Gane
Core Architects, Toronto
Would recommend
UFORA provided our company with exceptional service based in their knowledge and expertise surrounding issues of tree removal, re-naturalization and control/eradication of invasive species. Their familiarization with the City of Toronto personnel, policies and current trends resulted in efficient and amicable resolution to landscape issues during construction of the Bridgepoint Hospital Redevelopment. I will not hesitate to work with UFORA in the future for design, arborist services and site landscaping.
Sandro Marcuzzi
Project Manager, PCL Constructors Canada Inc., Bridgepoint Hospital Project
Had an enjoyable event
We would like to thank you for your leadership and guidance with the Rotary Eco-systems and Environment Education Program. We could not have selected a more experienced and committed person to be our Project Consultant. Your ability to plan and liaise with Metro Parks was key to our project, and your choice of knowledgeable site supervisors with the interpersonal skills to deal with the students relieved committee members of many of the control tasks that are normally part large groups. This allowed all those on site to enjoy the days work and take pride in their accomplishments. Your efforts in successfully sourcing funds in support of this project did not go unnoticed and the whole committee is indebted to you in this regard.
Mike Butler and John Flood
Program chairs, Willowdale and Don Mills Rotary Clubs, Toronto
St. Joseph Communications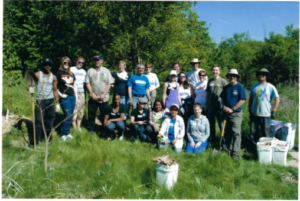 Thank you for contributing your time, efforts and community spirit to St. Joseph Communications' 2010 Volunteer Days Initiative! It was a pleasure working with you again this year. Thanks for sharing your knowledge and passion with our volunteers. Look forward to seeing the tree progress in a few years! P.S. A big thank you to your team as well!
Marta Singoud
Innis College, University of Toronto
I appreciated your willingness to share your knowledge with my students and your obvious enthusiasm for the subject. The students enjoyed the lectures and I thought they dovetailed well with the rest of the course.
Thank you very much and I hope our paths cross again in the not to distant future.
Ray Tomalty
Town of Markham
The Town of Markham Council thanks you and your team for your hard work in organizing and implementing your community tree and shrub plantings and would like to formally thank you for your efforts.
Mark Ingwersen
Manager of Parks Construction and Maintenance
Wilson, Young and Associates Inc.
On behalf of Wilson, Young and Associates Inc and Tree Plan Canada, I would like to THANK YOU for contributing to the success of the Invasive Exotic Workshop recently held at the University of Toronto. Your suggestions, ideas and presentation were key elements in developing a solid program.
Jodie Marc Lalonde
Senior Associate
Sue Bochner & Associates Ltd.
Now that the event is over, I thought that I would write to you to express my appreciation for the work that you did on behalf of Imperial Life Financial for it's Corporate Community Outreach Day.
It was not an easy task directing over 300 employees to effectively plant and weed in Don Valley. You and your staff ensured that those folks not only enjoyed their physical labours, but truly understood that ecological reasons for these working sessions. There was a complete feeling of satisfaction of having planting close to 7,000 wild flowers, in order to create a butterfly meadow in the Chester Springs Marsh Area.
Steve, thank you for your assistance and expertise. By all the comments I have heard, this special day was an outstanding success.
I look forward to working with you in another project in the future.
Sue Bochner
Communities in Bloom
The Communities of Bloom Committee along with the Mayor and members of Council would like to acknowledge the Urban Forest Associates for your outstanding contribution to the Earth Day Canadian Natural Highways Planting.
Ralph Aselin
Chairperson
I trust Stephen and his team.
Every day, I look out my window to see my ever-changing ravine.  It winter, it becomes a silent, snow-laden wonderland.  In spring, lime-green leaf buds unfurl and give way to shade on hot summer days.  And, in the fall, brightly coloured leaves flutter against blue skies.  Unfortunately, invasive weeds and erosion from a bare steep slope threatened my paradise.
Stephen Smith and his team at UFORA removed non-native trees to open the forest canopy, installed log terraces to address erosion, and planted native trees and shrubs to reduce invasive weeds.  Their knowledge, skill, experience, energy, and relationships with the TRCA and City staff were instrumental in the restoration process.  They have a deep love of trees and ravines and recognize their power to nurture our health and protect our forest friends.
Ravine restoration is a long-term process.  I trust Stephen and his team.  I'm grateful and excited to continue working in partnership with them to restore my paradise.
JF - Toronto
In a mere three years, the ravine is thriving and the erosion is no longer an issue.
We moved into a house on a ravine in mid-town Toronto a number of years ago and inherited a sandy slope full of Norway Maples and garlic mustard.  As an avid gardener, I felt I could solve the issues of lack of growth and erosion.  After a few unsuccessful years of no growth and increasing erosion during rain storms, I found Stephen and UFORA.  Stephen identified the issues and solutions very quickly, and was able to navigate the city permit process, which was rather extensive.  The UFORA team terraced the ravine with felled logs, which stabilized the slope.  They then removed all of the invasive trees/weeds and replanted a variety of native trees, bushes and undergrowth.  In a mere three years, the ravine is thriving and the erosion is no longer an issue.  Stephen included us in the decision making and even managed to work in natives that met my desire for spring and fall colour.  We have been so pleased with his work that we have asked him back to help with the front yard and our patio plantings.  I am looking forward to watching the ravine grow and evolve over the years to come, and thank UFORA for helping us become effective stewards of the land.
Pam Denton
Thank you
Our building permit for the City was officially closed out today – I just wanted to send another note to say thank you from Rosie and I. You each contributed your time, your energy, and your expertise to make our backyard something magical that we will enjoy for years to come.
Your professionalism, courtesy, and respect made the job much more enjoyable and I want you to know that we (including our tenant downstairs) all appreciate it very much!
Nick & Rosie